Many Kamloopsians, myself included, drive past the Ramada hotel on Columbia Street West weekly, if not daily. But, based on the lack of diners at its restaurant when I popped in for lunch one Saturday, I'd say few ever actually stop to check it out.
Only one other couple was seated at the time of our visit to Atta Boy Memphis BBQ, but their constant "mmms" and "oh my gods" as they sank their teeth into massive sandwiches gave me the impression the food was pretty good.
That said, the attention the server paid to each table was perfect — not so much that it's annoying but often enough that you always have a full glass of water next to you.
A small menu with a few key barbecue items seems like a good sign. They do one thing, and they do it well.
The portions for the plates are out of control. These dishes are meant for growing teenagers and high-performance athletes... and I wish I had known that. Wow.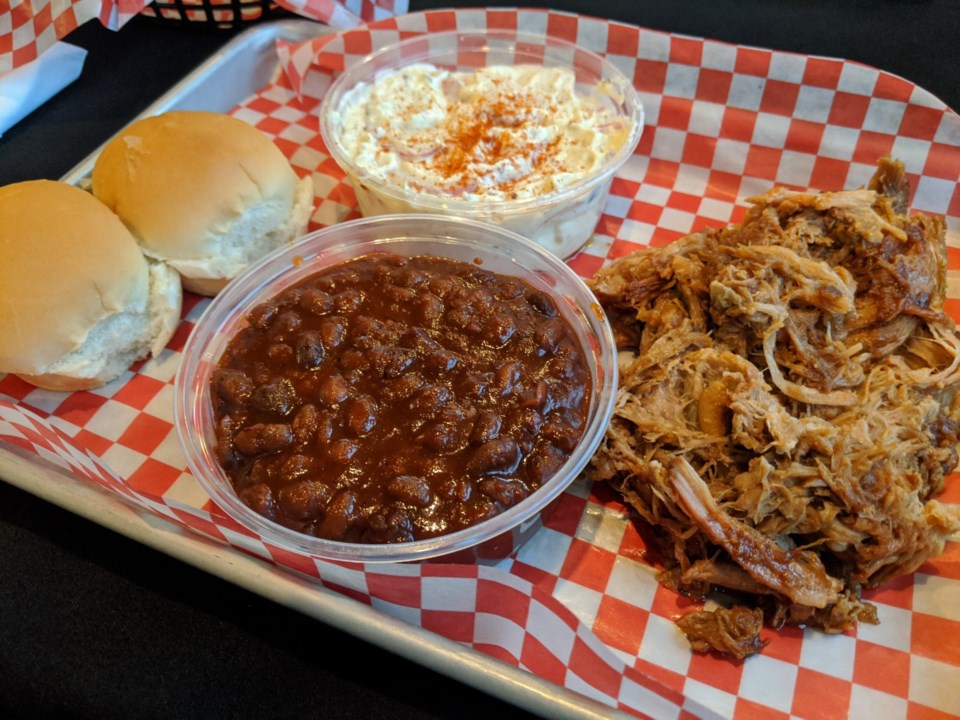 The pulled pork plate comes with a massive serving of pulled pork. No sauce is added to it, but their house-made barbecue sauce, ketchup and mustard are on the table for you to add as much, or as little as you like. But give it a shot without any additions — the meat is tender and flavourful all on its own. It might be my favourite pulled pork in Kamloops.
Next to that were two sides: a small house salad and two little buns (which obviously came from a bag and aren't worth the carbs, to be honest). See? Big portions.
The side of beans is soaked in their house barbecue sauce, which, if you like molasses then you're in luck. But if you don't... that makes it tough to enjoy. I'm personally not a fan so I couldn't bring myself to have more than a couple of bites. The potato salad, on the other hand, I couldn't leave behind. Large slices of fresh potato mixed with egg, mayo and a hint of seasoning really balanced the sweetness of those few spoonfuls of beans.
We also tried the brisket sandwich, which of course came with a generous side dish. The portioning of this dish was much more manageable. A tall sandwich piled with soft, meaty smoked brisket. Customers have the choice between mustard, vinegar, mild and hot sauce, so naturally, we tried the hot sauce. Not as hot as many barbecue fans would like, but a much better alternative to the molasses mixture.
Kamloops barbecue lovers need to give this place a try. Its unique flavours and commitment to slow-cooked, melt-in-your-mouth meat make it a great option for your next lunch out. But if you order a plate, make sure you have a friend to share it with!
Courtney Dickson loves nothing more than a cool morning with a good book and a strong cup of tea. Oh and she's a writer based in Kamloops. You may have seen her work in magazines such as This, Herizons and Shameless but you probably wouldn't remember because no one reads bylines.